M'lords, m'ladies, this princess has been busy. What, between handling my arsenal of wenches to training for the new show, it's been a busy season here at the castle.
In this post, Nerdy Sexy Medieval Times + Kittens and Friends, [click it if you missed it!] I shared with you a little history of my reign as princess, and the royal variations I've been. I last left you with some details about the fact that we are putting in a new show at the castle, and I've been learning new lines and training for the new show.
I love putting in new shows. It always takes me back to when I first started working at Medieval. Coming in for rehearsals, in normal, non-Medieval clothes, hanging out with the boys, sitting up on the dais throne and playing around while waiting for the corporate show director to finish yelling at the knights, the empty arena with no guests to smile at for hours, and being able to play with my phone. ;)
King Dave! My diary, best friend, and one of the most interesting people I've ever met [even though he would disagree with me on that or tell me I need to get out more].
Kyle! He's great. Read all about how great he is HERE. 
Tim! Castle lady killer and royal flirt. Also apparently the #1 hater of the fact that I'm gay. Muahahahaaa!
Kevin! KTL, as I like to call him from his ghetto days. He's from the New Jersey castle, but we stole him and we're never, ever giving him back because he's one of the best [and has a smile that could (almost) make a die hard lesbian reconsider…almost. ;) ]
Horsies!
This is Lee, our corporate show director. He is the guy who auditioned me nine years ago for this gig! And yes, he is that tall. And most people find him intimidating, because he sure as hell can be. This guy can hire and fire at will. Luckily for me, he thinks I'm a cool cat and digs me as la princessa.
And oh, goodness! During our rehearsals, I'm just sitting back in the arena, waiting for the knights to finish up, and Lee comes up to me. He says, "Evey, you're an interesting girl." Uh, thanks? "Yeah, I was reading your blog…" OMG. hahaha I died. But then he gave me the link to HIS blog! Bloggers unite! [but he doesn't wear a corset on his blog like I do….ohhhh lordy!]
ANYWAY!
I also love new shows because of the new princess swag! I get a new costume, plus I get to go find new princess bling. Check out Princess Catalina's new threads!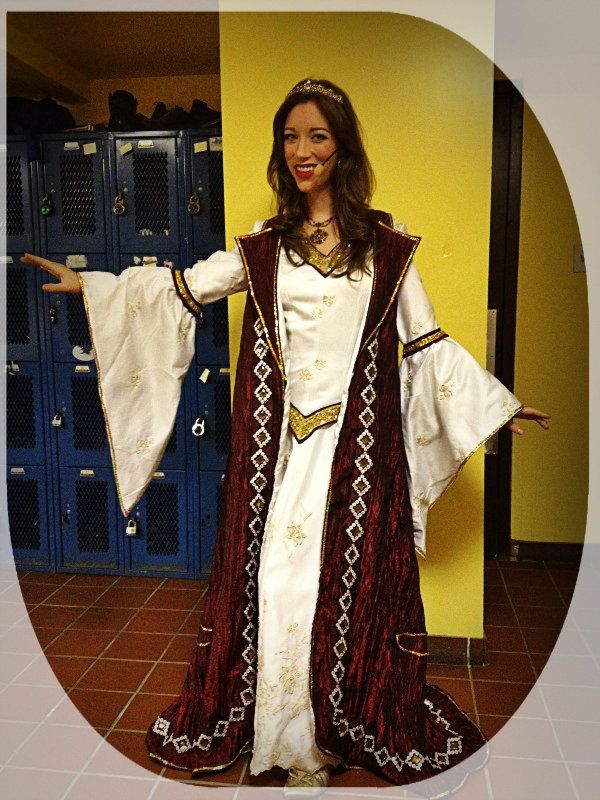 Pretty, huh?
Bust it wide open, bust it wide, hey! [you know the song.]
I just love how that trim accents my VAGINA. Really, Medieval? AND you made it in a V shape? Shame. [But still, the dress is pretty!]
New shoes! So sparkly. So distracting.
Old tiara, because it's pretty. Old necklace, because it's gorgeous and my mom gave it to me a million years ago. But new earrings! I've been told they're so sparkly you can see them from across the arena. Mission accomplished. ;)
And what's really cool is that I was asked not only to do the very first performance of our new show for the soft opening, but also to be the princess for the grand opening of the new show, complete with tons of press, VIP, corporate people, and all the big head honchos. We even had a massive cake that was an exact replica of our castle! Cake Boss style!
Look at the wittle baby cake knights! So cute!
Obligatory princess pose with the cake. So gay. haha
side-note: You guys don't know how hard it was to not take a finger-full of icing off the cake when no one was looking. Like, it was really hard. We didn't end up cutting the cake until after the show and after some other ceremonious crap…I was pretty much eye-fucking that cake all evening.
Anyway! The new show is rad. I like this princess version way better than the last. [Leonore was whiny…Catalina is a slut. Upgrade!]
You guys should come see it! You get to eat with your hands, make a lot of noise, watch guys beat the crap out of each other, Medieval Fight Club style, watch pretty horsies prance about, Dave the King! [nuff said], have a real, live falcon fly over your head, and you get to watch meeeee say stuff like, "Good nobles!" and "Chivalry has been redeemed!" and other such nonsense. ;)
Fare thee well! [sorry…I couldn't help myself!]
x x